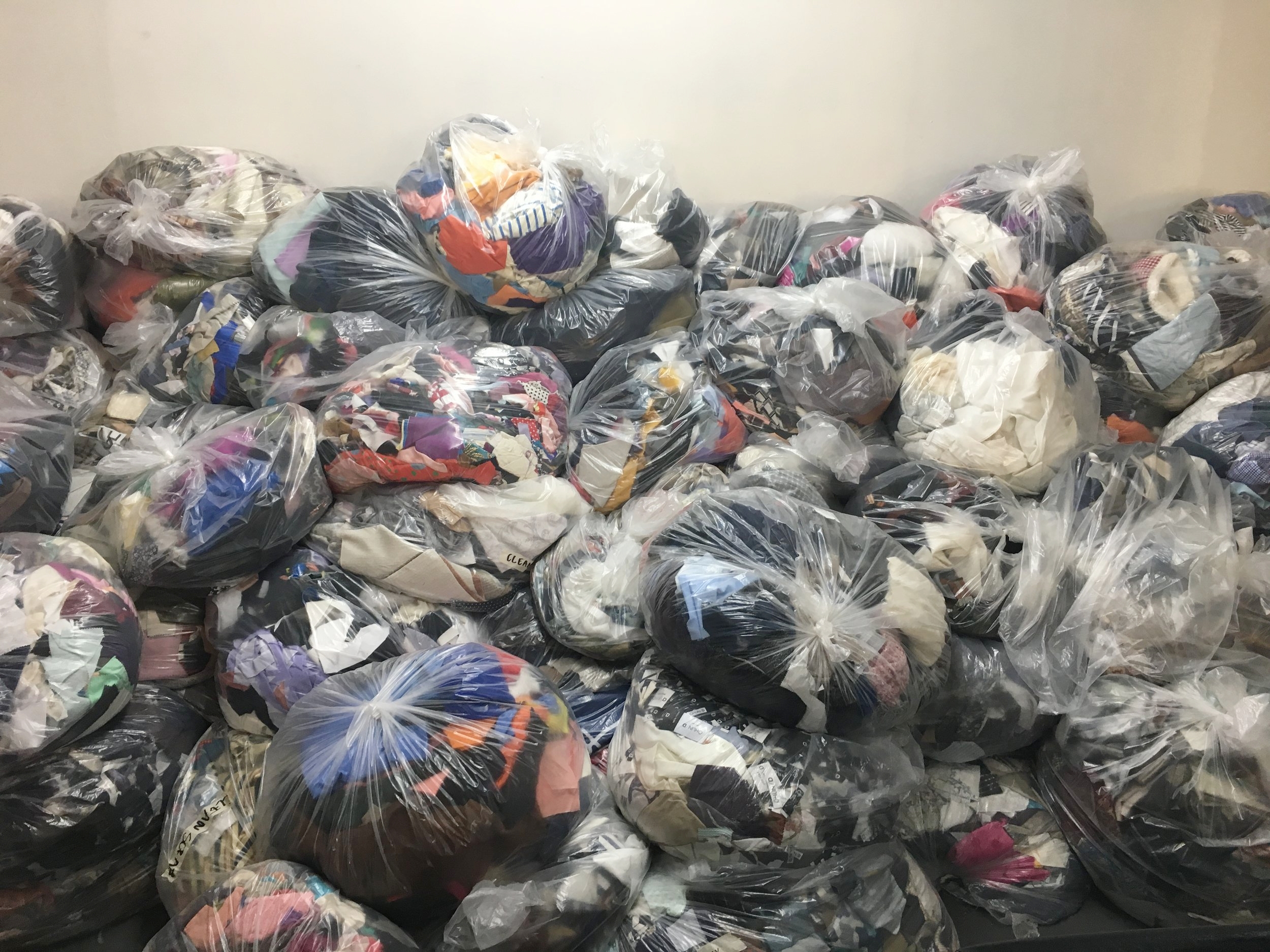 FABSCRAP depends on an engaged community of volunteers
THANK YOU
Textile recycling requires a lot of manpower. There is no mechanized system for sorting textiles by fiber or to remove stickers, staples, and fabric headers (yet!). This is why our volunteers are so important and make such a difference. It's easy to learn and fun to do. On average, volunteers sort ~2,000 lbs of fabric every week! FABSCRAP works because of the enthusiasm and effort of people like you.
WHAT TO EXPECT
All volunteer sessions take place at the FABSCRAP warehouse in Brooklyn. Each session is 3 hours long with 8 positions available. AM sessions are from 9-noon, PM sessions are from 1-4. Directions to the warehouse are detailed in the volunteer registration description. Here's how a session works:
Intros and a tour of FABSCRAP (10 minutes)

Learn how to sort the fabric scraps (15 minutes)

Sort! (2.5 hours)

Shop for fabric
To thank you for your time, your first 5 lbs of fabric are FREE, and you'll get the discount student rate ($3/lb) if you'd like to purchase additional material.
TIPS FOR A SUCCESSFUL SESSION
We welcome all sorters over the age of 10! Please...
Dress comfortably and wear comfortable shoes

Bring an extra bag to carry your free fabric home

Bring a book to read on the train to and from the warehouse - it's 45 min - 1 hour from Manhattan

We play music, but feel free to bring headphones

There is a cafe at the Brooklyn Army Terminal, but bring water and snacks if you need them

The warehouse can be warm in the summer!
NOTE: Sorting fabric requires the use of sharp scissors and some moderate lifting (20-30 lbs). If this is of concern, please let us know when you arrive. There's other tasks we need help with!
CORPORATE VOLUNTEER DAYS
Volunteering at FABSCRAP is a great, team-building way to support sustainable infrastructure for the fashion and design industries. We welcome corporate groups! We can accommodate your team and schedule with enough notice.
BIG GROUPS, CLASSES, AND EVENTS
Bring your organization, class, or club would like to visit FABSCRAP! We're happy to provide unlimited free fabric to charitable projects. Let us know how we can help!
We're sharing what's new, what's next, what we're learning about textile waste, and what people are saying about FABSCRAP.